Our phone lines are currently down which means we are unable to receive phone calls. We are working with our service provider to get this resolved. Please be patient with us.
Select

---
Online
STD Tests
treatment
STD Tests
STD Test Online & Available Treatments
Order any STD test including Chlamydia, Gonorrhea, Trichomonas, Herpes, Syphilis, HIV and more starting at $50/test. No additional charge for all positive test results treatable online.
Online STD Test
We will treat you for free if you test positive to any conditions treatable online!
If your sexual history and current symptoms suggest that you have a sexually transmitted disease, laboratory tests can identify the cause. Some STIs and UTI can be confirmed with a urine sample. Blood tests can confirm the diagnosis of HIV or syphilis.
It's difficult to diagnose an STD based on symptoms alone. The only clear way to tell whether you have a particular infection is through testing. Take the guessing game out of your health.
STD Test Online Screening Recommendations
Experts recommend that all sexually active women under age 25 be tested for chlamydia and gonorrhea infections. These tests use a sample of urine or vaginal fluid. You may repeat the chlamydia and gonorrhea tests three months after you've had a positive test and been treated. Reinfection by an untreated or undertreated partner is common, so you need the second test to confirm that the infection is cured. You can catch chlamydia multiple times, so get retested if you have a new partner.
Annual HIV screening is suggested for everyone ages 13 to 64
Men who have sex with men run a higher risk of acquiring STIs. Many public health groups recommend annual or more frequent STI screening for these men.
If you have HIV, it dramatically raises your risk of catching other STIs. Experts recommend immediate testing for syphilis, gonorrhea, chlamydia, hepatitis C and herpes after being diagnosed with HIV.
Before having vaginal or anal intercourse with new partners, be sure you've both been tested for STIs. However, routine testing for genital herpes isn't recommended unless you have symptoms.
It's also possible to be infected with an STI yet still test negative, particularly if you've recently been infected.
IMPORTANT INSTRUCTIONS:
We'll refer you to one of our partner testing site near you for testing
You'll be treated for free if your test comes back positive to any conditions treatable online
Refund Policy: Our fee is non-refundable once your order is processed and sent to the lab. It's the patient's responsibility to show up for testing
If you prefer to use insurance for laboratory services, copy and paste this link in your web browser https://www.callondoc.com/en/detail/lab-testing/9M5lqbr/9M5lqbr
Start A Visit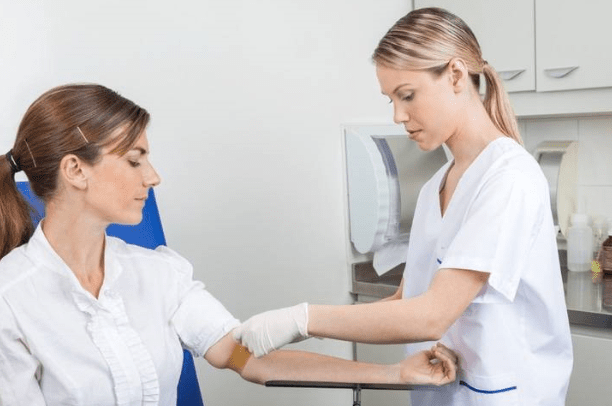 Affordable
STD

Testing

Fast, secure, and 100% confidential

Self-pay and insurance available

LEARN MORE
100% secure and confidential
Treatment included. No additional lab fees
Chlamydia

$35

Gonorrhea

$35

Trichomoniasis (Trich)

$45

Syphilis (confirmation)

$35

Chlamydia and Gonorrhea

$55

Chlamydia, Gonorrhea and Trich

$100

Chlamydia, Gonorrhea and UTI

$100
Go back
Order Labs Now
89,000+
Reviews
89,000+
Reviews
Highest Rated Telemedicine Provider
Very easy and fast, had my medications refilled within an hour and spent a lot less than my regular doctor charges for an appointment. Definitely using next time
I met difficulty to get a referral for an X-ray. They finally helped me solve the problem. They are patient, helpful and professional. Definitely will come back if I need online referral in the future.
Very quick and helpful! If their prescribed method of treatment doesn't work first time around they will prescribe you an alternate method free of charge.
Highest Rated

Telemedicine Provider
Yellow-green Discharge
Mucopurulent Discharge
Frothy, Fishy Odor
Painful Ulcers
Painless Genital Ulcer
Cauliflower Like Growth
After 1 - 2 Days
After 14 Days
After 7 Days
After 3 Months
After 5 Days
Visual Exam
Most STDs are transmitted through the exchange of semen, pre-ejaculate, vaginal fluids, and anal fluids. Syphilis, HPV, and HSV are passed through skin-to-skin contact.
For certain STDs, we can start empiric treatment if you have symptoms and have been exposed to an STD.
Yes, you will be treated if your test results come back positive.
We offer expedited partner treatment once your partner consents.
STD symptoms often overlap making it difficult to differentiate the STD types by symptoms alone. The best practice is to screen for STDs if you've been exposed or are at risk of contracting an STD.
Yes! If you're symptomatic or have been <i>exposed to an STI</i>, we can prescribe empiric antibiotics to treat the infection.
Yes, we offer expedited partner treatment for sexually transmitted infections such as Chlamydia, Gonorrhea, or Trichomonas
Yes! Curedose highly respects patient confidentiality. We follow HIPAA guidelines to keep your data secure and safe. Protected Health Information (PHI) will not be given or sold to unaffiliated third parties. Only your care team can access your health records
For your privacy, Curedose will not appear on your bank or credit card statement. Please look out for an anonymous merchant name. Your bank statement will not show your diagnosis, symptoms or reason for the visit.
We'll treat you again if you test positive within 30 days of the first treatment.
For STIs that require an injection, we recommend seeing a local doctor first. We can provide an oral alternative if seeing a doctor is not feasible.
We offer affordable online lab services. We recommend STI testing one to two weeks after treatment
No! We do not transmit your diagnosis or symptoms to the pharmacy.
The consultation fee is self-paid. However, you may use your insurance to pay for the medication at your preferred pharmacy.
Simply login to your patient portal to track your prescription and treatment plan
Most US pharmacies require the patient's full name to dispense the medication. Adults only may handle prescriptions. If applicable, the pharmacy may ask to see your insurance card or ID card
Yes. Similar to any doctor's office, the patient is responsible for the medication. We prescribe generic or low cost options and offer 80% Rx discounts on most prescriptions at participating pharmacies.